API594 WAFER TYPE DUAL PLATE CHECK VALVE
The dual Plate Check Valve is an all purpose non return valve that is much stronger, lighter in weight and smaller in size compared to a conventional swing check valve or life check valve. The Double Plate Check Valve employs two spring-loaded plates hinged on a central hinge pin.
1. Light disk design
2. Good flow efficiency
3. Metal closure of upper seat
4. For Wafer, LUG, or BW connection
5. Springs in Inconel X750 or other materials on request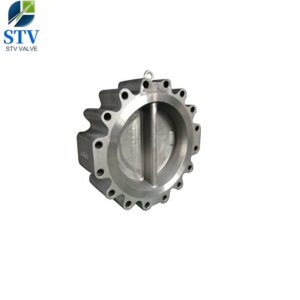 Size: from 2″ to 48″
Pressure: 150 – 2500LB
Material: we can offer valves carried out in GG25, WCB, LCB, WC6, WC9, C12, C5, CF8, CF3, CF3M, and CF8M
Design and production standard: API 594 or DIN
Distance between flanges: ASME B16.10, EN558, DIN3202
Connected in accordance with standard: ANSI, API, DIN
Test standard: API598, API 600, ISO5208
Medium: The valve is suitable for several media including water, steam, oil, gas, petrol products, nitric acid, acetic acid, etc.
Working temperature: from -46ºC or -50ºC (stainless steel constructions) and -29ºC or -46ºC (carbon steel constructions) up to 600℃