API602 Globe Valve is suitable for demanding process applications and industries where the isolation of steam, gas or liquid is required.
The valve designed to API602 and tested to API598 has an outside screw and yolk with rising stem. The handwheel operates the globe valve for both isolation and for throttling applications.
1.Handwheel operator
2.Bolted Bonnet
3.Screwed BSP, NPT or Socket Weld
4.Sizes 1/2″ to 3″
5.Forged Steel A105N body
6.Temperature range: -29°C to 425°C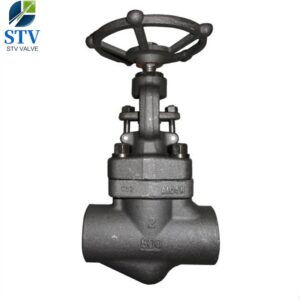 Size: from 1/4″ to 3″
Pressure: 800 – 2500LB
Material: A105, F304, F316, F304L, and F316L.
Design and production standard: API602, BS5352, ANSI B16.34.
Socket-welded SW ends: ANSI B16.11
Screwed ends according to: NPT, ANSI B1.20.1
Butt-welded BW ends in accordance with: ANSI B16.25
Ends flanged in accordance with: ANSI B16.5, or EN-DIN.
Test standard: API598, API 6D
Actuation: can operate with lever, gear and electric actuator.
Medium: the valve is suitable for several media including water, steam, oil, gas, petrol products, nitric acid, acetic acid, etc.
Working temperature: from -46ºC or -50ºC (stainless steel constructions) and -29ºC (carbon steel constructions) up to 600℃