API PRESSURE SEAL CHECK VALVE
API Pressure Seal check valves are designed for reliability in high velocity service applications to prevent backflow. The check valves are designed to operate in either vertical upflow or horizontal pipe runs. Seating surfaces are hardfaced with Stellite6 to provide high life cycle capability.
The swing check design offers a higher flow coefficient than a tilting disc design with higher flow area. The tilting disc is a non-slam design.
1. Body-bonnet gasket with closing at pressure – Pressure is used to create a hermetic closure. The higher the pressure, the more hermetic the closure.
2. TRIM completely Stellite coated – Long-lasting disk, seat and back-seat of surface.
3. Welded seat – Eliminates leak between seat and body, does not loosen due to temperature fluctuations or vibrations.
*Removable bonnet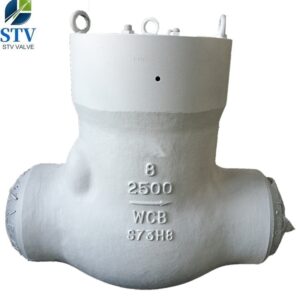 Size: 2″ – 42″
Pressure: 900 – 2500LB
Material: we can offer valves carried out in WCB, WC1, WC6, and WC9.
Design and production standard: ASME B16.34
Distance between flanges: API 6D, ASME B16.10
Connected in accordance with standard: ANSI B16.25
Test standard: API598, API 600
Medium: The valve is suitable for several media including water, steam, oil, gas, petrol products, nitric acid, acetic acid, etc.
Working temperature: from -29℃ up to more than 600℃