To answer this question we must first consider the basic structure of a check valve. A check valve consists of two ports; an inlet for liquid or gas to enter the valve and an outlet for it to exit the valve. Within the chamber of the check valve is contained an opening and closing mechanism (valve disc). Therefore, liquid or gas can only pass through the valve in one direction, hence it is sometimes referred to as a non-return valve, one-way valve etc. When the liquid or gas attempts to flow backwards through the valve the disc will close or slam shut. The surge of the backflow hitting the closed disc can create a hydraulic shock or water hammer. Water hammering can cause problems such as pipe rupture, collapse or damage to pumping systems. To get around these problems, the non-slam check valve utilises an internal coiled spring downstream from the disc. So instead of relying on backward flow to close the valve, as the forward flow starts to slow, the valve is closed off with the spring mechanism, eliminating any backflow and the cause of the water hammer.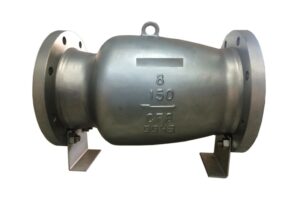 Typical applications of Non-Slam Check Valves would include:
Centrifugal Compressor Discharge
Reciprocation Compressor Discharge (Sizing is critical for this application)
Rapid Closure requirements
Low Pressure Drop Requirements
Salt Water Fire Safety Systems Critical Service
Desalination Reverse Osmosis Process
Critical Applications
Non Serviceable Locations *
High system deceleration applications
Elevate Valve Slamming applications
High Temperature critical applications
Cryogenic Application
Pulsating Flow Applications
Renewable Energy Hydrogen Service
Lethal Service **
https://stvvalve.com/wp-content/uploads/2021/08/logo_STV-300x93.jpg
0
0
stvvalve
https://stvvalve.com/wp-content/uploads/2021/08/logo_STV-300x93.jpg
stvvalve
2022-03-25 06:11:34
2022-03-25 06:11:34
What is a non-slam check valve?